| | |
| --- | --- |
| | Analyze: Hybridization Time & Concentrations |

This window displays hybridization times for oligos of various lengths and in various concentrations.

Half Hybridization Time is calculated according to Keller, G.H. (1993) DNA Probes: Molecular Hybridization Technology, pp. 1-25; Stockton Press.

T1/2 = sqrt N * ln 2 / (350000 * C)

where N is the oligo length [nt] and C, its concentration [mol/L]. This formula is good for standard hybridization conditions with salt concentration range from 0.4 to 1 M NaCl.
The Concentrations window is a nucleic acid calculator. It provides instant concentration, volume, absorption and molecular weight conversions for your primers, PCR products and DNA templates with a click of the mouse.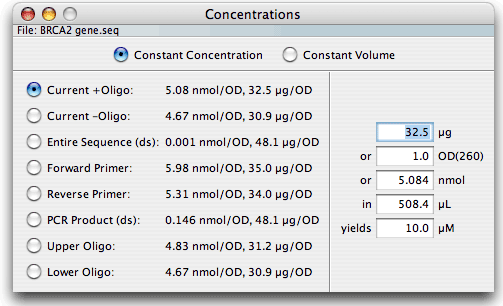 ---